Tuesday, February 9, 2010 at 7:44PM
We have sock dare winners!
We have two winners, in fact, both of whom knit this awesome
Carassius pattern
into a pair of special socks.
Take a look at these:
Love the scales!
Look at the little beads for the fish eyes! Adorable! Yay, Bethany!!
And I love the beads on these:
So cute.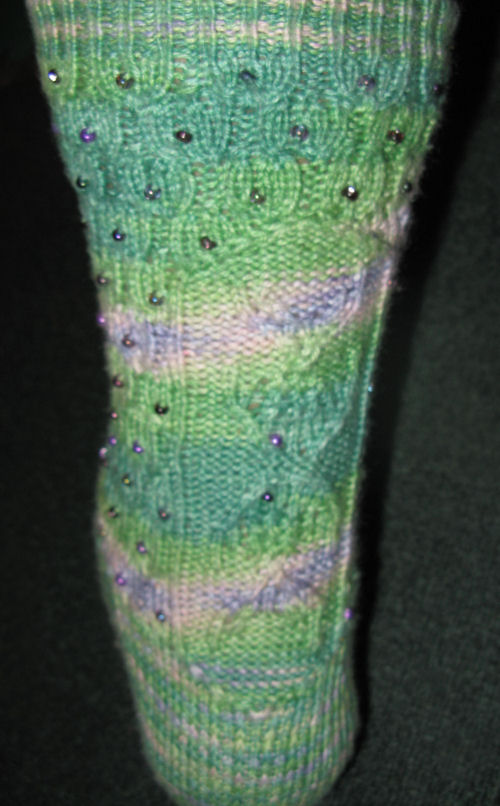 Yay, Crystal!
Since both Bethany and Crystal sent in their pictures on the same day, they'll both receive a prize. I hope you'll enjoy the best prize, though: an awesome pair of socks!
***********************************
Have you peeked at our project gallery recently?
We are having so much fun around the studio looking at all of these amazing pictures! So please contribute yours, if for no other reason than you want to entertain us. We love them. (Thank you Trisha and Jennifer for the pictures!)
Link to Flickr Group. Come and see!
Also, if you live in the Washington, DC area and you want to come to my
Knitting With Hand Dyed Yarn
class on February 21st, there are still a couple of spots available. The class is being held in Silver Spring, MD, at The Yarn Spot yarn shop. You can contact them directly at 301-933-9550, or at victoria@theyarnspot.com, to sign up.
I am hard at work on the curriculum, and will have lots of examples and tips for you.
Here's where I need your help:
What sorts of things would you like to see covered in a class like this? Any questions you'd like to have answered? Topics I could better elucidate for you? Any feedback is welcome, I want to make sure I'm giving my students what they want!
Thank you for your help! I know the students will thank you, too!

Yarnista
|

12 Comments
|
in

Chit Chat